The Advanced Reporting tool can be accessed via a button on your Reports Dashboard: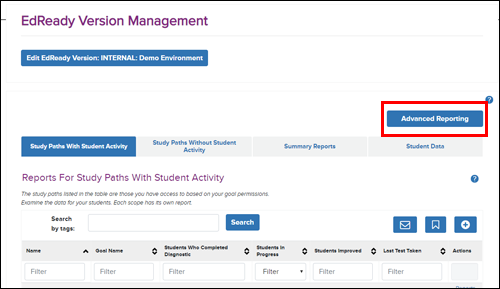 If you don't see this button, you may not have permission to access it - ask your institution's EdReady Administrator to grant you the 'Advanced Reporting Access' Permission. (If you're unsure who that is, please submit a support ticket so that we can help you.)
Note: the Advanced Reporting tool will open in a new tab - if it doesn't open for you, you may need to ensure that your browser is allowing pop-ups.
When the Advanced Reporting tool opens, you'll see all available reports listed for you:

The following reports are available:
Goal Reports:

The Consolidated Student Scores report allows you to see high-level student details (initial/current score, goal name) across multiple scopes. If you have students working in more than one study path, this report will allow you to see their progress across multiple scopes in a simple consolidated view.

Student Reports:

The Student Progress Report allows you to see a student's data across any study paths they have worked in, in a single consolidated view. In addition to an on-screen report, you have the ability to request a PDF version of a student's report, allowing for easy printing and sharing.
The Student Activity Report allows you to see summary session details for a specific date range and a specific study path, in one consolidated on-screen view. These report details can also be sent to you as an Excel file.