This article contains the following information:
---
Student is at the wrong EdReady site
There are hundreds of EdReady sites, each one customized for a different educational institution or program. If a student simply enters "EdReady" into a web search, the results will likely include our public EdReady site (edready.org) and a number of other institution-specific sites. It is important that your students have the exact URL of your institution's EdReady site. Students should make sure that they see your institution's logo in the header of your EdReady site before attempting to create and account or sign in.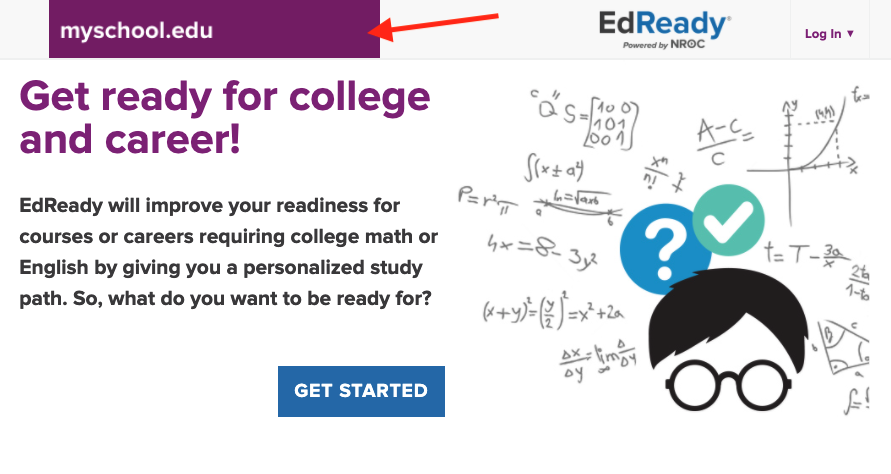 Student Cannot Activate Their EdReady Account
NOTE: If your school's EdReady site does not have a Get Started button, this information does not apply to you.
After signing up for an EdReady account, a confirmation email message is sent to the address the student used to sign up. The student must click on the link or use the included activation code to complete the sign up process and activate their account. If the student does not receive a confirmation email, it could be for one of the following reasons:
The confirmation email is in the student's junk or spam folder. They should check for the message in those folders.
The student is using a school email address and cannot receive messages from outside of the school's domain. If this is the case, the institution's email administrators should whitelist edready.org. Alternatively, the student could use a different email address.
The student entered an invalid email address during the registration process.
Please have the student submit a support request if they cannot activate their EdReady account.
Invalid Goal Key
If a student is having difficulty using a goal, it could be for one of the following reasons:
The student is not entering the goal key correctly. Goal keys are case sensitive, so any differences in case will prevent the student from joining the goal.
They student is at the wrong EdReady site. Goal keys are specific to each EdReady site, so if a student is not at the correct site, they will not be able to join the correct goal.
Please see this article for more information on troubleshooting goal key issues.