This article contains the following information:
---
Overview
Notifications allow you to easily unearth important behaviors and actions (or lack of actions!) by your students in EdReady. While all of the student data underlying these actions and behaviors are already available in the reports, the notifications functionality easily brings key actions to your attention without having to go looking for it. Please note that notifications must be set up by site administrators before they are available to teachers and other reporting users.
Accessing Notifications
There are two ways to access notifications:
1. You can access the My Notifications menu from your account dropdown menu.

The Notifications tab will list the types of notifications you have available and the number that are unread. Click the Details link to see more information about the specific notifications.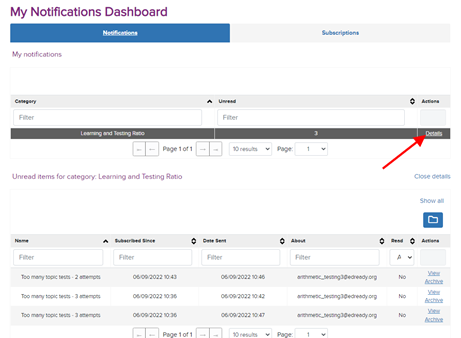 2. When new notifications are available, you will see a green banner near the top of your screen. Click the View link to be taken to your Notifications Dashboard.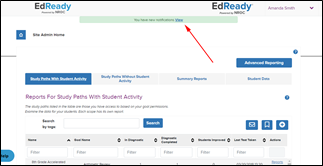 You can click the Details link in the Actions column to find the student's name, email address and Study Path associated with the notification.

Viewing Notifications
When a notification is selected, the details will expand/appear below. From here you will see the name of the notification, date sent, student email, and status (read or unread). Select View in the Actions column to see the details for your selected student. To review past notifications that have already been read select Show all. This will display a list of read and unread notifications. (more details here)