This article contains the following information:
---
Accessing the Student Details: Tests Taken Screen
To access the Student Details: Tests Taken Screen from the Reports Dashboard:
Click on the tab labeled Study Paths With Student Activity.
Click the Reports link for the study path you wish to see.
Click the Student Data tab (underneath the study path name) near the top of the page to be taken to the Student Data Summary report.
Click the Summary tab.
Click the Details link in the Actions column for the desired student.
Click on the Tests Taken tab.
Student Details: Tests Taken Data Table
The Tests Taken table shows detailed information for all test activity that a student has completed in the current study path including:
The date the test was completed
The name and type of test (initial diagnostic, unit-level, or topic-level)
EdReady score upon completing the test
Mastery status for the unit or topic. More details on mastery status can be found here.
Additionally, this report takes advantage of the Dynamic Table Display functionality used throughout EdReady, so you can filter and sort what is displayed on-screen, as well as use the "+" button to choose which columns you'd like to see on-screen. All of the columns listed in the tables may not be displayed on-screen by default. More information about customizing the on-screen display can be found here.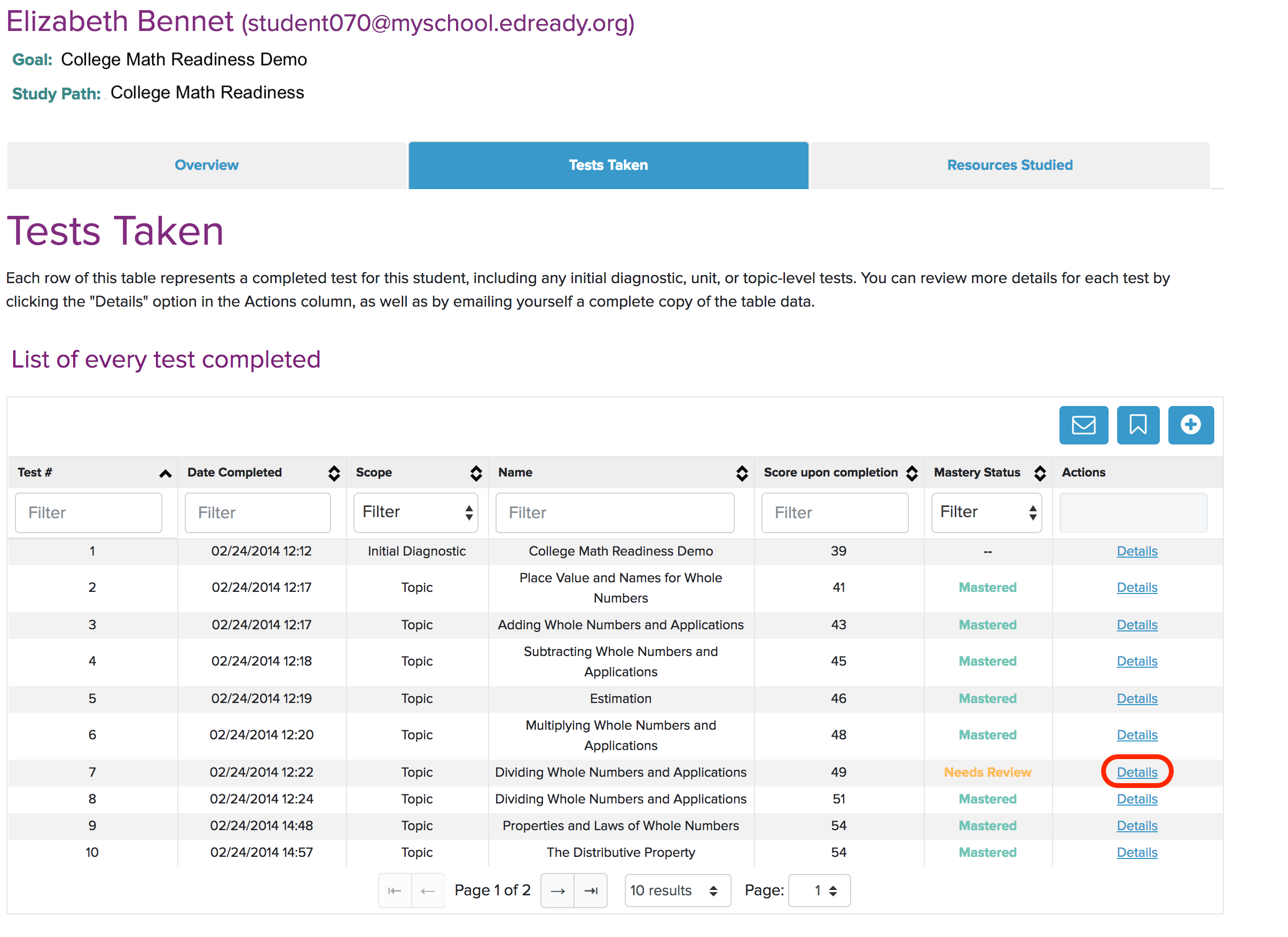 Viewing Student Performance on Individual Questions
To view student performance on individual questions for a specific test:
Click on the Details link for the test you wish to see.
Another table will appear at the bottom of the screen with a list of questions associated with that test. Click the Show link next to the question you wish to see.
The question will appear in a window similar to the one shown below.

To navigate through the questions in the test, click the Previous and Next buttons to move forward or backward.
To view the student's answer, click the Your answer button. To view the correct answer, click the Correct answer button.
A series of dots will be displayed above the Question ID - these represent the learning objectives aligned with the question. Hover over a dot to see the name of a concept this question tested: