Previous: Logging In
1. Click the Forgot Password link.
Next to the Log In button found on the 'Log In' dropdown window, you will see a Forgot Password? link: click this link to request a new password.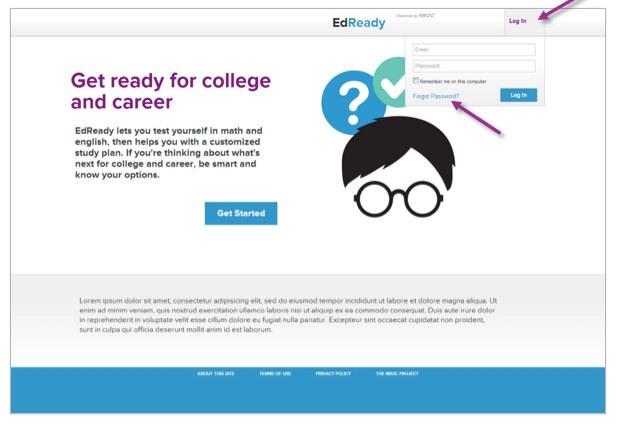 2. Enter your email address.
Enter your EdReady Username (your email address) in the box and click the Send Me Reset Instructions button. Be sure to use the same email address you used when you signed up for EdReady.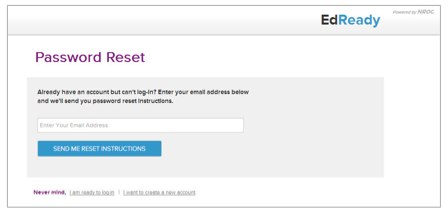 3. Check your email.
EdReady will send you a temporary password via email.
Wait at least 10 minutes for the email to arrive. Usually it will arrive quickly, but if you're behind a firewall or at school, it might take longer. Be sure to check your spam folder.
When the email arrives, it will look like this: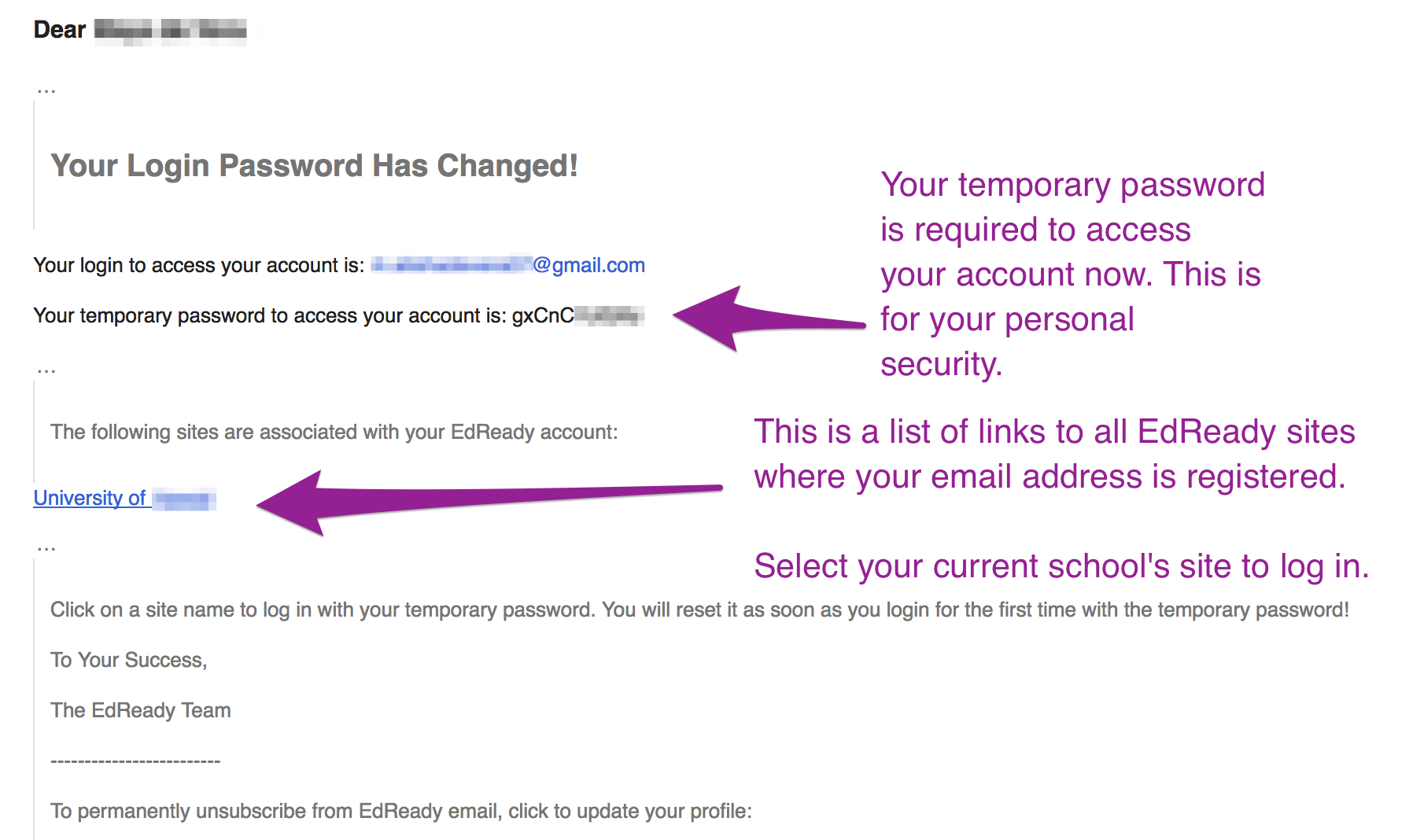 4. Copy the temporary password.
You can select the password by double clicking it, or copy it down on paper. Just remember, it is case sensitive. If you select and copy, be sure you do not pick up any extra whitespace around it.
5. Go to your EdReady site.
Click on your school's link in the list of EdReady sites associated with your account. This will ensure that you are logging in at the right place.
NOTE: If you see "EdReady.org" listed in the email, that means you have an account on the public/free EdReady site. If you are logging in for your school, you can ignore the link to the public EdReady site. Remember: your school cannot see the work you do on the public site.
6. Log in with the temporary password.
When you click your school's link, you will be presented with the normal login option, at the top right of the screen.
Use the normal interface to log in. Use your email address as usual, but this time enter the temporary password we sent you by email as shown in this picture. Do not click on "Forgot Password" again.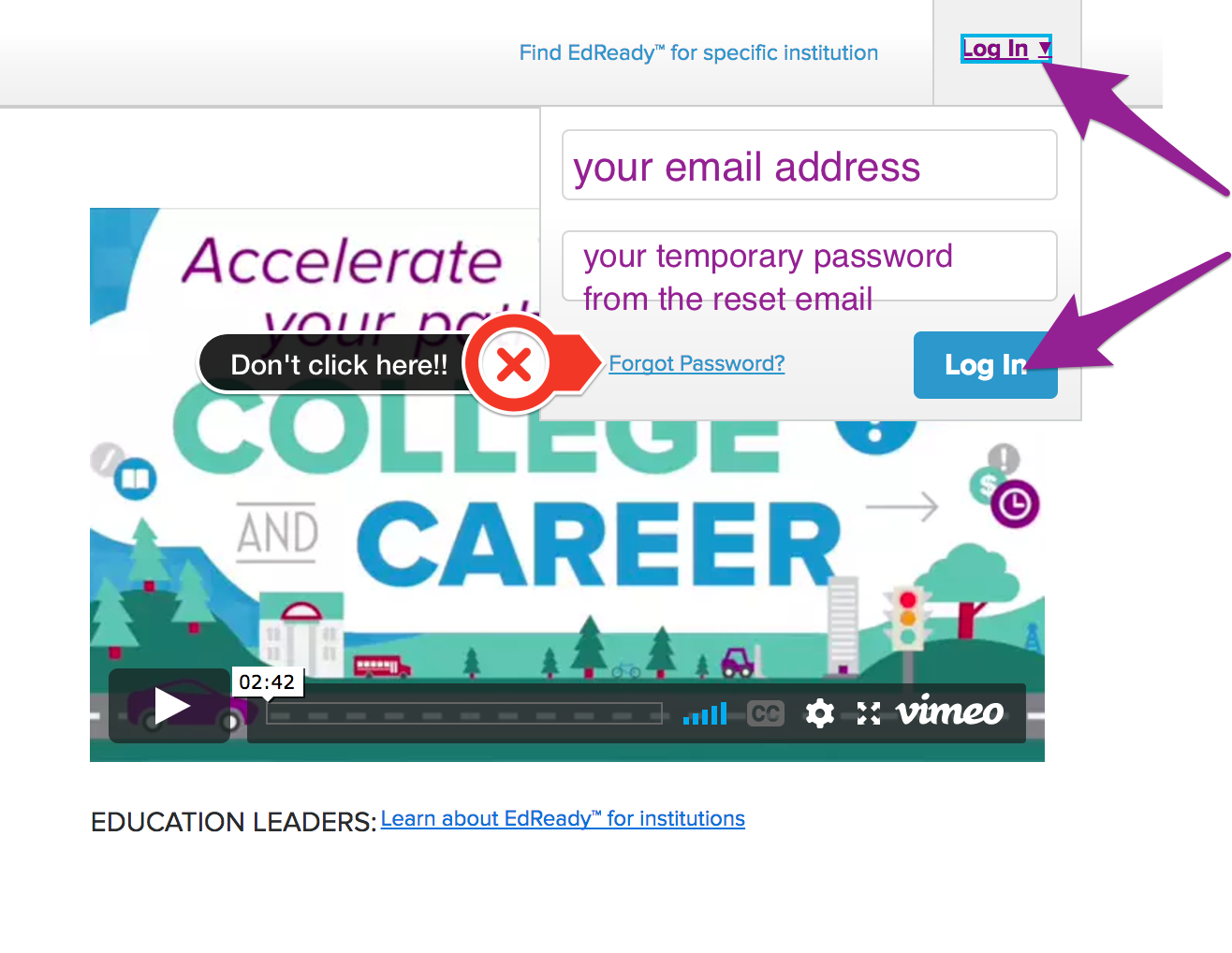 7. Create a new password.
The next screen will force you to create a new password before you can access EdReady. You will have to enter the temporary password here, in addition to your new password (twice).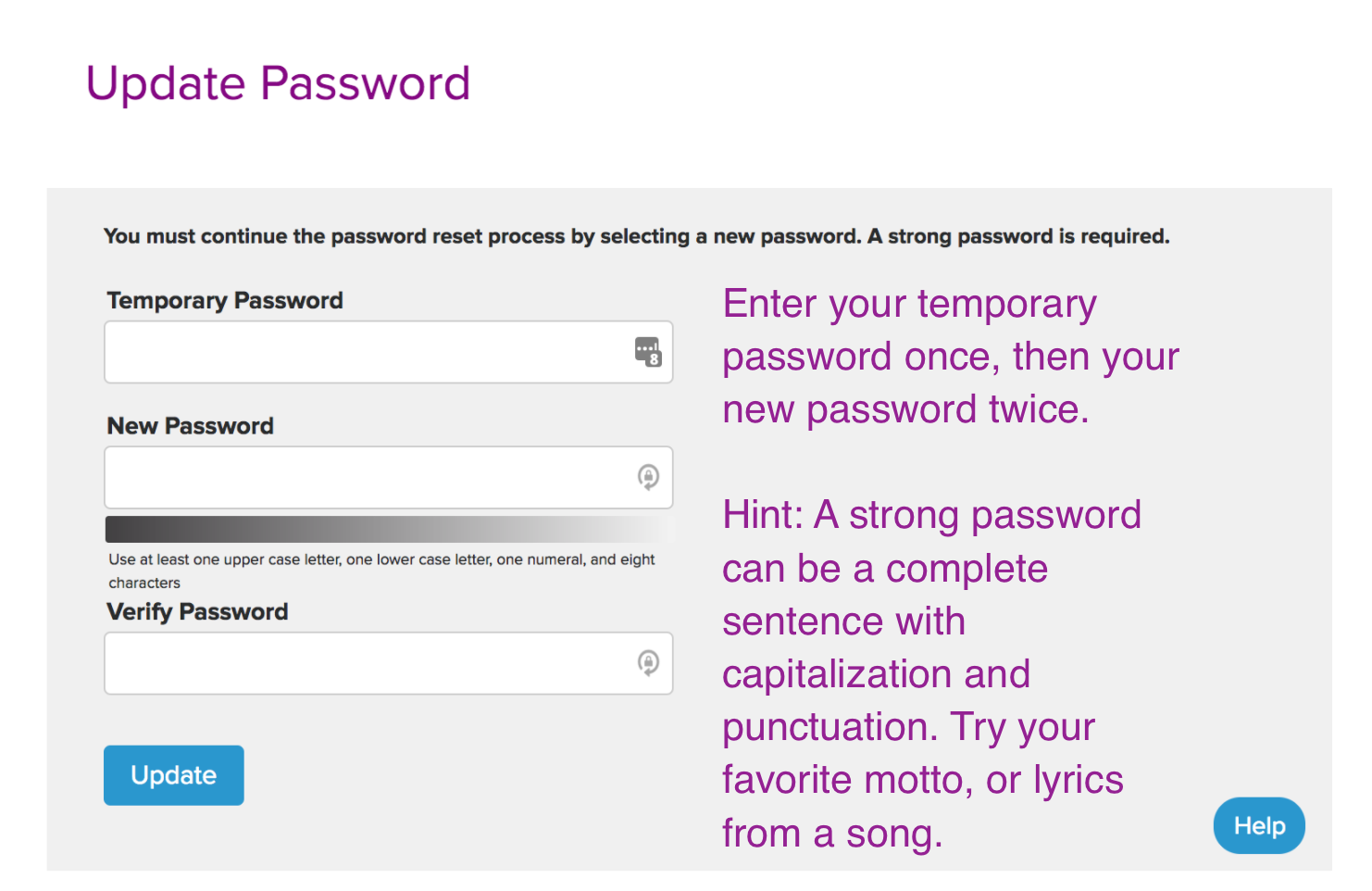 Click the "Update" button, and you are immediately logged into EdReady with your new password. You will use your new password to login from now on.
Temporary password didn't work?
(1) Make sure you are on your school's custom EdReady site. Look for the school logo at the top of the page, and the school name in the URL (like http://yourschool.edready.org).
If you try to reset your password at a different site, you will see a warning message about having multiple accounts. This does not mean that the system is broken, it is trying to make sure you are logging in on your school's site. The public EdReady site does not save your information for your school, so be sure you are in the right place.
(2) If you copy/paste the temporary password, be sure you do not pick up extra whitespace. If you paste in whitespace on the password reset page, you will see an "Incorrect Password" error message.
(3) If you requested a reset multiple times in succession, the emails may get delayed or mixed up in your inbox. Only the most recent temporary password will work.
Each time you click "forgot password" your old temporary password gets removed and a new temporary password is set for your account. There is no way to reverse this process. You must use the temporary password in the MOST RECENT EMAIL we sent you to reset your password.
If you get an error saying the password is wrong....
Check your spam filter for the latest email from EdReady.
Wait a half hour or so, then check again.
Look at the time stamp on the email, and be sure it matches the last time you requested a password.
If it's older, you should look for a newer email.
If your email client creates "threads" based on the subject line, you will have to look for the most recent email in the thread.
Check for whitespace when you copy/paste.
Note that the temp password is case sensitive.
(3) You can always get in touch with us if you have trouble (http://support.edready.org)
If you already know your password, and just want to change it for security, you can change your password after logging in by visiting your My Account page.
Next: Initial Log In